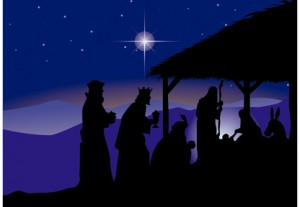 But the angel said to them, "Do not be afraid, I bring you good news of great joy that will be for all the people. Today in the city of David a Savior has been born to you; he is Christ the Lord" (Luke 2:10-11).
We have all heard the story of Jesus many times. This year pray that God will reveal something new as you read and study it with your family.
The memory verse for this month is what an angel said to some ordinary shepherds out watching their sheep. You know for them it began as just an ordinary night for some ordinary men. Suddenly, they were right in the middle of a miracle!
Do you feel ordinary and wonder about your purpose? Are you restless, unfocused and finding little joy in your day? Stop right now and think about it—YOU and your family can be part of the miracle of Christmas. Change what you are doing, focus on Jesus and live life to the fullest. Do not wait a minute longer! There is Good News, Jesus Christ is born.